How we are different
Why complicate things? Why work with different vendors and complex integrations which that don't give you the solutions you want? Keep it simple with Tabit. We offer one platform, limitless possibilities.
Services
Tabit adds value at every interaction
Tableside service
Higher tips
With Tabit, there is a reduction in number of servers required per shift, through eliminating the need to key orders into the POS terminal and perform redundant tasks multiple times per table. This means the servers receive higher tips.
Training efficiencies
Intuitive workflows coupled with the extended product information available within the app, streamline menu familiarity and training for new and existing staff.
The Tabit system can be taught in just 15 minutes vs. a couple of days for existing systems – eliminating costly training time.
TabitPad
Table management system
All-in-one solution that replaces your existing point of sale systems and leverages mobile connectivity to streamline restaurant operations, extend sales opportunities, and elevate the overall experience for both operators and their customers.
Features
Tableside Ordering and Payment

Tableside interaction with the customers eliminates the need for servers to write down orders (or attempt to memorize them) and then have to key them into the POS terminal. The app's intuitive workflow guides the server through the order taking process, ensuring that they capture all of the relevant details for each ordered item, while providing the best customer service.

Monitoring and Reporting

Get consolidated views into the operations across multiple locations. Make smarter decisions, backed up by better data.

Decrease Table turn Times

12-15 minute decrease in table turn time during peak times. Tableside interaction with your customers eliminates unproductive time spent on keying in orders and processing payments.
Streamlined Training

Train your employees in minutes, instead of hours. Intuitive workflows, coupled with the extended product information available within the app, streamlines menu familiarity and training for new and existing staff.

Sales Increases

Servers can spend more time with their customers in the service area (tableside), promoting further sales opportunities (additional drinks, and desserts). The app-driven Up-Sell and Cross-Sell prompts provide servers with additional sales opportunities during the actual order-taking process.

Customer Loyalty

Boost customer loyalty and increase profits by targeting promotions to your most loyal customers.
Mobile First - Cloud First
Designed from the ground up to be mobile, the Tabit solution implements mobile best practices and offers a business-process oriented solution to address both restaurant operators and their customers.
Tabit is a cloud-based solution, deployed using the latest cutting-edge technologies, and utilizing tablets and smartphones as the primary touchpoints – eliminating the need for traditional on-premise software installation and support. Built upon a single unified platform, Tabit offers a set of solutions that address the entire restaurant ecosystem, thus reducing the need for multiple integration points, and breaking down legacy information silos. The solution is easy and fast to deploy.
Tabit supports multiple touchpoints serving both restaurant operators and their customers, while consistently utilizing the same business logic and unified database. Various stakeholders within the restaurant can leverage these capabilities: Servers, kitchen staff, managers, hosts and even the customers themselves.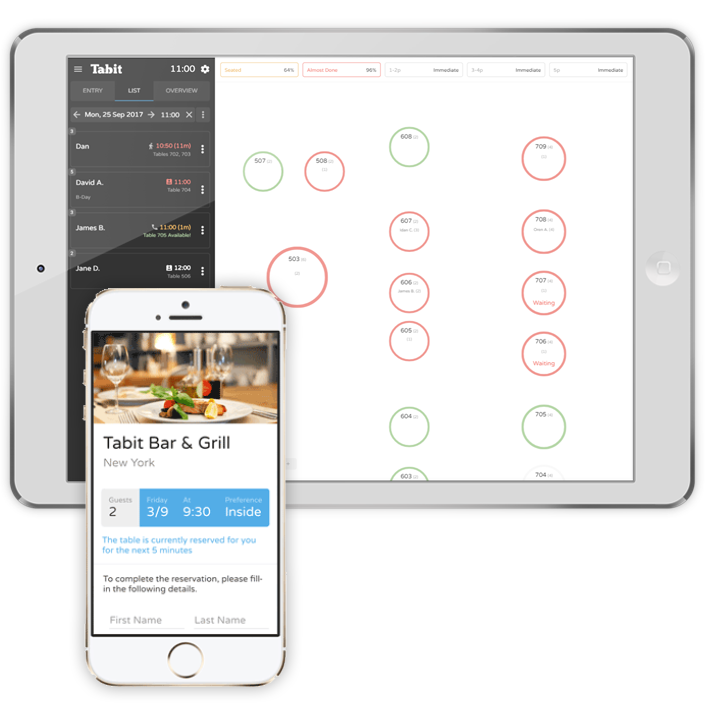 Manage your business on the go
Get a consolidated view of operations, exceptional notifications together with sales analysis and reporting – all in real time, anytime and anywhere.
Provides visibility
We provide our restaurant operators and franchisees with the best tools available - the ability to manage their business through a single system that provides visibility of things like: employee productivity, sales, returns, and more. Tabit is the absolute best.